The last service of the First Baptist church was held October 5th and I was so thrilled to be able to be there and have all my family with me and to see so many familiar faces.
When we arrived we were greeted by Ruth Walker who then directed us on to the Fellowship Hall. The Fellowship Hall itself brought back so many memories and as the crowd started to gather I saw more and more familiar faces. My intent was to take tons of pictures but I found myself so busy talking that I wouldnt remember about getting a picture until the person had already walked away!
I had my family follow me through each and every hallway and room that served as both church events and as school classrooms for me and it was strange to see how it looks now and at the same time see how everything looked in my mind from back in the day.
As you can guess the service itself was packed. Larry Stewart led a choir made up of former church members and they all did an amazing job.
Since the church was being given to the Assembly of God, Pastor Dino Espinoza was there to speak and to thank the members for the gift of the church.
The entire service was video taped. I am planning to call this week to get a couple of copies of the service. As soon as I am sure I wrote down the number correctly I will post it here in case others are interested.
After the church service there was a catered meal in the gym. The gym, though it still has lots of potential was in need of some TLC. It was a little sad to see the way it is now and remember what it was like when we played our basketball and volleyball games there. I also remember doing tumbling during PE in that gym. Mr. Mogford was big on calisthenics and tumbling and we would form "pyramids" etc. on that gym floor.
Below I am posting some pictures that I did manage to take and I apologize for having to reduce them to fit the page. I know it would be better if they were in larger format but hopefully they will still serve the purpose. I have listed the names of the people I can remember.

Larrisa Poindexter (right)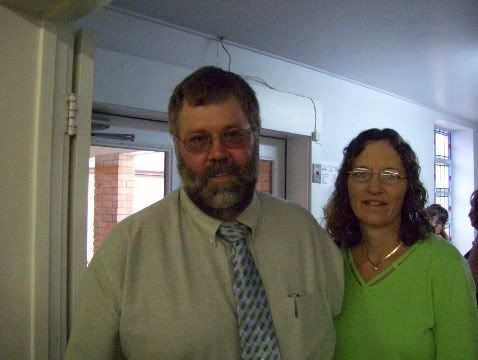 Howard and Angeline Stovall


Nancy Dennis Chisum, Wayne Dennis, Emily Stuessy


Joy Lane Nakanishi (in black top, black hair)


Janet Payne Raybin, Rosemary Stewart behind her
and Janet's son to the right